The Shoot 'Em Up Destruction Set 3 [C64]
Alf Yngve blasts back onto the C64 with the SHOOT EM UP DESTRUCTION SET 3, the biggest and best SEUDS compilation so far, this time featuring SIX full enhanced SEUCK games in total!

Alf has once again teamed up with Richard Bayliss and Carl Mason for this release and Richard has delivered excellent front-ends, in-game enhancements along with a splendid array of soundtracks for each game. Carl 'Mase' Mason has handled the loading bitmaps for each game and has done some excellent pixel-work for each game that include some fantastic 'Ocean / Imagine' homages.
Power up your C64, plug in a joystick and prepare to unleash destruction in the third exciting SHOOT 'EM UP DESTRUCTION SET for the Commodore 64!

What better way to kick off the Shoot 'Em Destruction 3 - than with an old-skool style shoot 'em up! Zap Fight is jam-packed with nods to the classic arcade conversions of yesteryear!
The loading screen and loading tune from Carl Mason and Richard Bayliss respectively are particularly well done and will set your nostalgia circuits buzzing!
The game itself is a traditional vertically scrolling shoot 'em up with nicely designed bas-relief graphics from Alf Yngve. The power-us are an excellent feature as not only can you upgrade the lasers on your player ship, but you are also occasionally joined by a drone ship that follows your player ship, adding to your firepower - a particularly clever gameplay mechanic!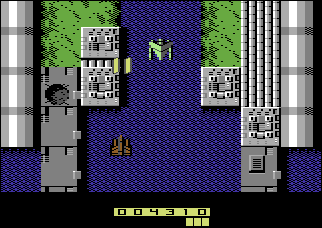 Imagine, if you will, that Green Beret received a sequel that continued the story from the first game - and that's exactly what you get with Blue Beret!
After setting the scene with a nice bitmap screen from Carl Bayliss that pays homage to the first game - complimented by a stunning Galway-esque loading tune from Richard Bayliss it's time for ACTION!
The game begins in a snowy setting with slavering Alsatian dogs hurling themselves at you - closely followed enemy troops that run, leap and bound their way onto the screen. The game is a sideways push-scroller - like the original, only this time scrolling from right to left. Power-ups are occasionally dropped from above that upgrade the range of your default stabby knife and even give you different weapons to dispatch the enemy troops with.
Featuring superbly designed background (the hi-res graphics are a particularly nice touch), cool soundtracks and fun arcade gameplay, Blue Beret is a sure-fire HIT!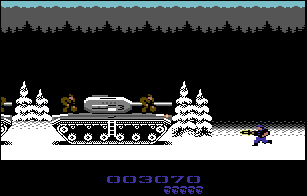 Take on the confederate militia forces of Sara Stalin using your cybernetic FISTS in BARAKON - CYBORG AVENGER OF AMERICA!
Do battle through various locations in war torn America as you attempt to restore freedom to the land. Despite the political overtones, Barakon is not a game that takes itself too seriously - as you will see when Barakon faces enraged cowgirls and even partakes in a pie-eating competition!
The presentation is once again top-notch with this release, with Richard Bayliss supplying a quality front-end and in-game enhancement (along with a selection of Matt Gray-esque soundtracks). Carl Mason has produced one of his best loading bitmaps yet which is not only packed with intricate detail, but is also rather amusing too!

Please note that this a two part game - once you complete part one you will be given a special code that you will need to enter in order to continue the fight in Barakon Part 2 which is also included in this compilation!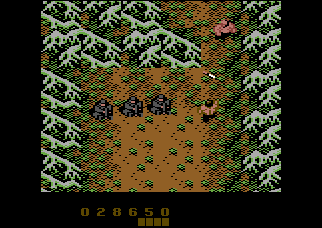 And now it's time to hunt some spies in the action-packed game SPY RIDER from Alf Yngve! This is a fast-paced vertically scrolling shoot 'em up in which you must take out enemy agents by blasting them with the dual 50 caliber machine guns mounted onto your turbocharged Spy Rider vehicle!
Most of the action takes place on the left hand side of the screen but at times you must also pay attention to what is happening on the right as well. An innovative feature of this game is not only do you control the car, but you also control a cross-hair sight on the right of the screen at the SAME TIME! You can use this to destroy airborne threats before they get the chance to fire on your car.
Featuring funky retro soundtracks from Richard Bayliss (the in-game tune is a particular treat), nicely designed sprites (including a very impressive roll-and-explode animation when certain enemies are dispatched) Spy Rider is a fine addition to this action-packed compilation.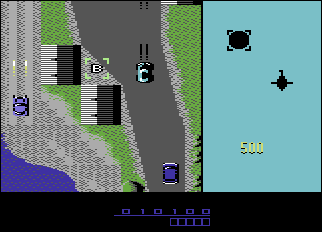 Grab an Uzi 9mm and unleash carnage as you do battle through assorted vistas in the brilliant OPERATION FIRESTORM!
This is a sideways scrolling shoot 'em up in which you must move your gun-sight around the screen to dispatch the many enemies that appear both on the ground and in the air.
This game features some very clever graphical touches and neat in-game enhancements (including multi-sprite explosions). Presentation is once again top-notch with a nice front-end and atmospheric soundtracks from Richard Bayliss along with a very nicely designed loading screen from Carl Mason.
Note: A joystick with auto-fire feature is definitely recommended for this game!

If you like your shoot 'em ups to be ROCK HARD (like they used to be!) then SUPER TAU ZETA 2 the game for you! It kicks off with a gorgeous loading screen from Carl Mason that pays tribute to the original Super Tau Zeta game.
In the game itself you control TWO battle fleets simultaneously as you do battle with the Insectoid empire. This may seem tricky initially as having two squadrons on the screen offers a lot of targets for the enemy to shoot at, but after a while you will learn that the squadrons can be positioned in different formations - and even on top of each other - to offer less of a target for enemies and more awesome firepower for yourself!
Alf Yngve is on fine form for this release that features spectacular space-scapes to battle through and some formidable boss fights!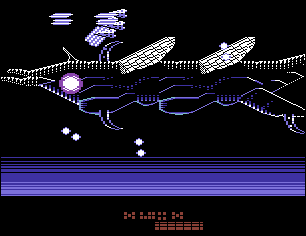 ** SEUDS 3 FEATURES **
SIX complete Commodore 64 games designed by Alf Yngve!
Specially coded front-ends & soundtracks by Richard Bayliss!
Exciting in-game enhancements, special effects and power-ups!

Musical tributes to Martin Galway & Matt Gray!
Superb bitmap loading screens by Carl 'Mase' Mason!
Fantastic inlay artwork by Oliver Frey!
** SEUDS 3 CREDITS **
Game Designs, Artwork & SFX by Alf Yngve.
Game front-ends coded by Richard Bayliss.
Music by Richard Bayliss.
Tape loading system by Martin Piper.
Loading screens by Carl 'Mase' Mason.
Cover artwork by Oliver Frey.
Packaging by Jason 'Kenz' Mackenzie.

THE SHOOT 'EM UP DESTRUCTION SET 3 is a compilation of enhanced SEUCK games for the Commodore 64. You can play the game in a C64 emulator (we recommend VICE) or you can port the game onto real C64 hardware if you have the resources to do so.
The download file features the .d64 (disk version), .tap (tape version) and .prg (c64 program files). The files included in the download have been tested on and work perfectly on the C64Mini/Maxi systems.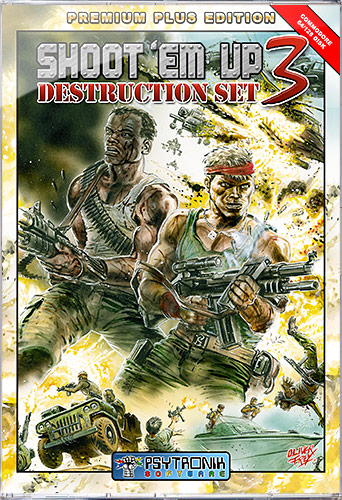 Help support Alf Yngve's fantastic C64 projects,
illustrating and novel writing via Patreon.
Purchase
In order to download this game you must purchase it at or above the minimum price of $2.99 USD. You will get access to the following files:
SEUDS 3 (C64 Tape + Disk) Psytronik Software
1 MB
Comments
Log in with itch.io to leave a comment.
Found this great video of Operation Firestorm on YouTube. Gameplay starts at 10:10
I watched the video and really noticed the expanded box poster art. That'd be a great file to tack into the digital package. Tbh, a lot of PSYTRONIK box art is pretty nostalgic (great screensavers & backgrounds). Cheers.