POLAR BEAR IN SPACE! (C64)

Psytronik Software in association with RGCD are delighted to present an absolutely stunning debut release for the C64 from Unrolled Loop Studios LLC - POLAR BEAR IN SPACE! Take control of an extremely cute Polar Bear in his quest to run, jump and zap through various alien-infested levels whilst collecting krystals.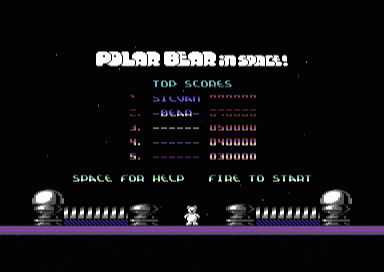 ** STORY **
Polar Bear is stranded in space! Having found a nearby alien space station on his quest for home, he must now locate the secret underground transporter and collect the 99 krystals needed to operate it. Only then can he escape! Artful aliens, onerous obstacles, and tenacious terminals stand in his way. Will you and his trusted companion Snowball be able to turn the odds in his favor?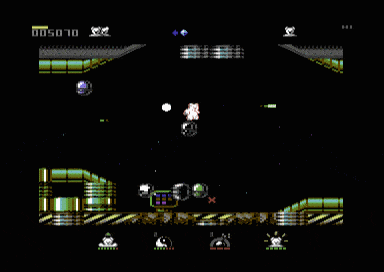 ** FEATURES **
· Super-slick presentation
· Incredibly cute main character
· Combined platforming and space shooting action
· Superb soundtracks
· Non-respawning enemies in platform section!

· Support for keyboard and two/three-button (POTX/POTY) controllers
· Includes SD2IEC compatible version!

· TheC64 Mini/Maxi compatible

NOTE: This game is suitable for PAL systems only.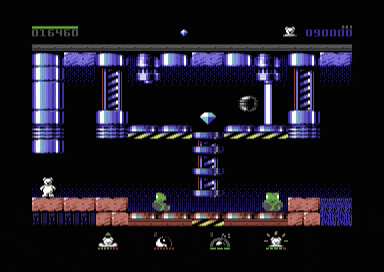 ** CREDITS **
Programmed by Silvan Reinhold
Graphics and Game Design by Silvan Reinhold
Gaming Consultant Dina Smith
Music by Jon Wells
Packaging Artwork by Trevor Storey
Additional Packaging Design by Jason 'Kenz' Mackenzie
Tape Mastering by Richard Bayliss & Martin Piper
Cartridge version managed by James Monkman / RGCD

Please note: The physical tape, disk & USB versions can now be pre-ordered from the OFFICIAL SECURE PSYTRONIK ONLINE STORE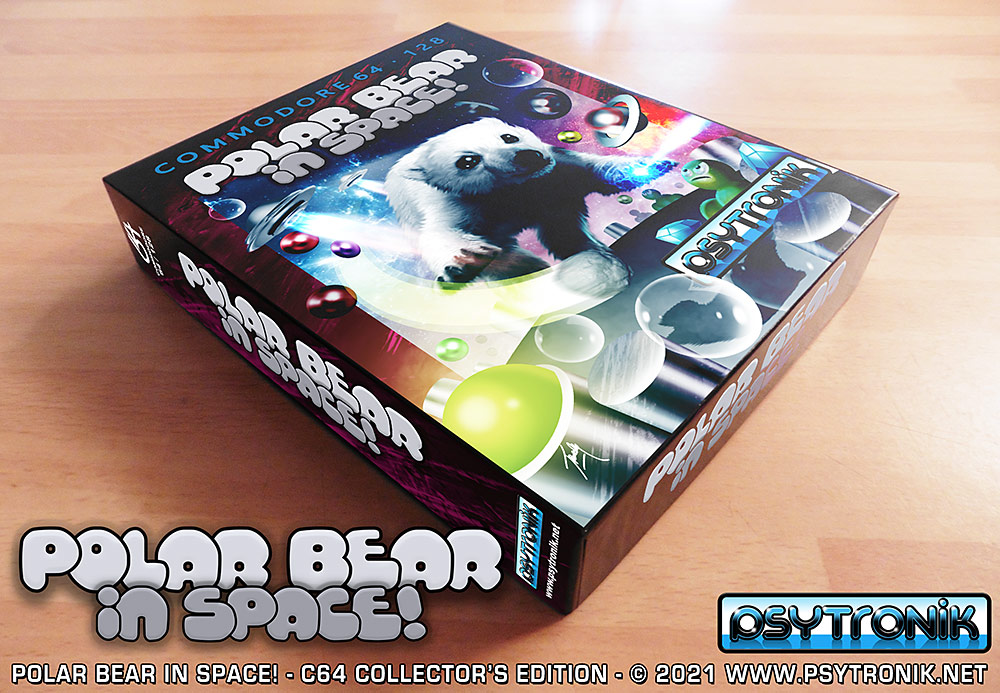 ** SYSTEM REQUIREMENTS **
POLAR BEAR IN SPACE! is a game for the Commodore 64. You can play the game in a C64 emulator (we recommend VICE) or you can port the game onto real C64 hardware if you have the resources to do so. The download file features the .d64 (disk version), .tap (tape version) and .crt (c64 cartridge version).
NOTE: The cost of this purchase does NOT include VAT. The VAT will be added on during the checkout process, the amount of VAT varies depending on the VAT rates that apply to the country you are ordering from.
Purchase
In order to download this game you must purchase it at or above the minimum price of $4.99 USD. You will get access to the following files:
POLAR BEAR IN SPACE! (C64) tape, disk, cart, sd2iec)
8 MB