Planet Golf (C64)


Here we have the latest C64 production from Antonio Savona, who also produced the polished hi-res one-button snakey game p0snake. For Planet Golf Antonio has produced a stunning 2D golf simulation that takes place on 5 different planets in the solar system! Packed with innovative touches, flawless presentation, superb sampled speech + fx and humourous touches this is an unmissable release for C64 gamers!

This Digital Download version of PLANET GOLF contains the full game for the Commodore 64 computer along with the bonus extras that are featured on the flip-side of the disk. These include the stunning cinematic intro sequence that features full motion video and digitized sounds along with a bonus music player that contains the superb soundtracks from the game.
** PLANET GOLF STORY **
In 1971 the Apollo 14 landed two men safely on the moon. Commander Alan Shepard spent more than 9 hours collecting lunar artifacts and performing several scientific experiments.
And playing golf.
36940 years have passed since that day. Mankind has long colonized the entire solar system and space tourism is now a reality. Specially designed suits allow men to withstand the extreme conditions of open space and walk unharmed on other planets' surfaces.
And play golf.
** PLANET GOLF FEATURES **
• Play golf on 5 different planets in the solar system
• 99 playable screens in total
• 1 or 2 player modes
• Superb digitized speech + sound fx
• Realistic physics & gravity simulation
• Stunning hi-res graphics + animations
• Amazing cinematic intro with full motion video and digitized audio
• Galactic Hall Of Fame
• Unlockable assets
• PAL and NTSC compatible
NOTE: This game is NOT compatible with the SD2IEC device.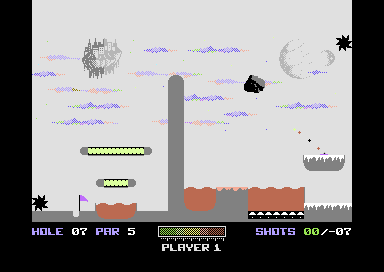 ** PLANET GOLF CREDITS **
Coded by Antonio Savona
Music by Aldo Chiummo & Gaetano Chiummo
Gfx by Ilkka Sjöstedt & Massimilano 'WiZkiD' De Ruvo
Inlay art by Oliver Frey
Purchase
In order to download this game you must purchase it at or above the minimum price of $3.99 USD. You will get access to the following files:
Planet Golf (C64 Disk) Psytronik Software
887 kB
Comments
Log in with itch.io to leave a comment.
In addition to SD2IEC it also doesn't seem to support pi1541 or Kung Fu Flash. Stuck with emulation I guess.
Oczywiście było grane (in Polish) .
Hi, i have a white screen after start the Game (C64 Maxi)

Hi, is there any reason why this game shouldn't work with the new full size TheC64? I've bought it but just get a blank screen when I try to run the programme.
You need to add _AD to the filename, so the filename be like sidea_game_AD.d64. It worked on my C64 mini
Any chance I can have the CRT file? I bought the game, and was hoping to use it with my newly aquired easy flash 3.
Game is nice. It's a great idea converting a variation of Stickman Golf to the C64. Courses unfortunately are not really smooth. They sometimes are somewhat tiring, you might end up trying back and forth forever. Maybe this is the reason why you can't play the game with more than 2 players, which would be nice, but otherwise might just take too long. The presentation and artwork however is great, so maybe this just needs a little practice to get into it. I really appreciate that people are doing games like this one, nowadays!
Note that the game won't start if you have two drives connected (which is the case if you use an C128D or SX64 with your 1541-U, even if you switch the internal drive to #9).
Unfortunately I did not find any contact information for anyone who is responsible for this game or merchandise.
Not sure if there's any merchandise yet, but the developer is quite active on twitter: @tonysavon
If you're liking Planet Golf and wanna win free C64 stuff, check out the Tournament running September-October http://hayesmaker.com/planet-golf Upload your video streams and automatically win Kixx cassettes!
Since when "WC Leaderboard" was released, we couldn't have so much fun with a golf club. Antonio Savosa did an AWESOME job, it's funny, it's hard... it's an OLD STYLE GAME !!!