Guns 'n' Ghosts (C64)

Here's another great Commodore 64 game from the unstoppable team that is Georg 'Joe Gunn' Rottensteiner & Trevor 'Soulless' Storey. This time the guys have created a superb arcade game with a spooky theme! 1 or 2 players have to battle through over 70 screens infested with zombies, skeletons and bats and various other spooks & spectres.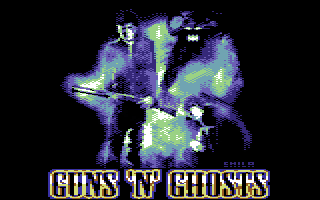 GUNS 'N' GHOSTS is now available from Psytronik Software as a budget C64 disk (presented in a glossy colour disk sleeve with full colour label + instruction sheet) and on tape (presented in a clear cassette case with full-colour glossy inlay). A C64 cartridge version is also available from our friends at RGCD.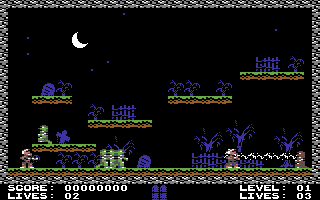 ** GUNS 'N' GHOSTS STORY **

They are hunters of supernatural beings, ghosts, demons and evil spirits. Join Trev and Georg as they fight their way through dark places with guns and demonic powers. Are you man enough to send the evil back to hell? Well, don't just sit there, grab your shotgun and get going!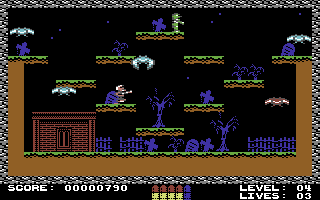 ** GUNS 'N' GHOSTS FEATURES **

• 1 or 2 player arcade action!

• Over 70 screens in one load!

• Power-up your weapons, blast those spooks!
• Mini cut-scenes!

• Animated end-sequence!
• PAL and NTSC compatible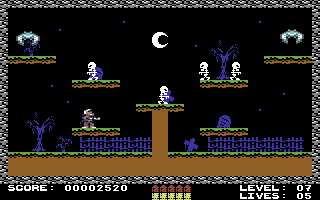 ** GUNS 'N' GHOSTS GAME CREDITS **

Game Design, GFX + Artwork by
Trevor 'Smila' Storey

Game Programming by
Georg 'Endurion' Rottensteiner

Music by
Richard 'TND' Bayliss

Packaging by
Jason 'Kenz' Mackenzie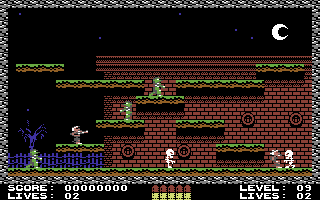 ** SYSTEM REQUIREMENTS**
Guns 'n' Ghosts is a game for the Commodore 64. You can play the game in a C64 emulator (we recommend VICE) or you can port the game onto real C64 hardware if you have the resources to do so. The download file features the .d64 (disk version), .tap (tape version) and .prg (c64 program files).
NOTE: The cost of this purchase does NOT include VAT. The VAT will be added on during the checkout process, the amount of VAT varies depending on the VAT rates that apply to the country you are ordering from.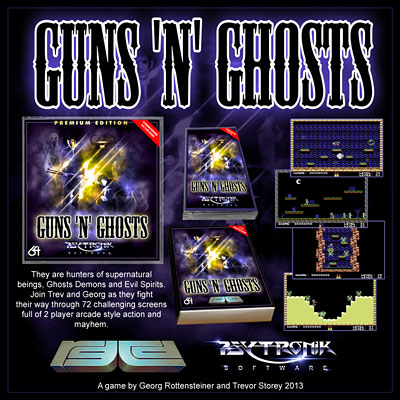 Purchase
In order to download this game you must purchase it at or above the minimum price of $2.99 USD. You will get access to the following files:
Guns 'n' Ghosts (C64 Tape + Disk) Psytronik Software
251 kB